Is Marcom a profession?
by
Eduardo Mitelman
Over the few years, marketing communications (Marcom) has become essential to advanced organizations. It's a broad field that's constantly evolving, and thus demands ever-increasing professional and technological knowledge. That's a major reason that, rather than hiring someone in-house, many businesses prefer to turn to external sources. But before we get into the benefits of such a service, let's start from the beginning, to understand what Marcom is really about.
The birth of Marcom
Many years ago (surprisingly many!), I was hired to work at a biotechnology company. I was young and having recently completed my bachelor's degree in communications, I didn't exactly know what I was getting into. But the work sounded interesting to me, so I was willing to try, and they were willing to give me a chance. I worked there for three years, doing everything – CRM, marketing, writing, design, website development, software testing and QA…. Really everything! Eventually I burned out, and wanted to move on to my next challenge. But when asked in interviews what I did, I was at a loss. What was this jack-of-all-trades job called? Slowly I began to realize that most of what I did fell within the spectrum of a profession known as Marcom. So I tried to get a better grasp of what Marcom really entailed. And guess what? There was nothing written about it (this was the era before Google), and everyone I asked gave a different answer.
Marcom in academics? We're not there yet
The Marcom field began developing in Israel in the 1990s, with the meteoric rise of the high-tech industry. More accurately, the field was really born with the globalization of high-tech companies that were required to start communicating in different languages, develop more sophisticated marketing tools, and respond to global marketing operations. Before that there were Marcom positions, but they had no name and no definition. Now responsibilities were becoming more clear.
At the time, if marketing managers were mainly concerned with strategy (go-to-market, new markets, future products, and the like), Marcom people were about action – writing content, developing marketing tools, operating communication channels, supplier management, advertising, media, and event production. Though the appeal of the field soared as Marcom people traveled around the world, producing exhibitions and conferences, working with teams in different countries, and managing fat marketing budgets, the responsibilities continued to fluctuate between organizations. For Marcom in Israel, the job definition remained gray.
Over the years, I encountered many types of Marcom people handling many types of tasks (some better than others). Then as now, the initial job requirements included native English, though truthfully, high-level English is sufficient. In addition, you may be surprised, but the only educational requirement is experience. Accordingly, Marcom people usually come from different disciplines; some studied marketing, some were media majors, some are business people, and others have no education in any of the associated fields. In many cases, people simply grew professionally from within administrative jobs, and advanced into a Marcom career. So why isn't Marcom being studied at the university or college level? Basically, it's because it's still not sufficiently established, and it has no proper training criteria. Typically, the field requires in-depth background in marketing and strategy, communications, advertising, technology and even finance – a broad area of study indeed. Even today, the field has not gained its rightful recognition.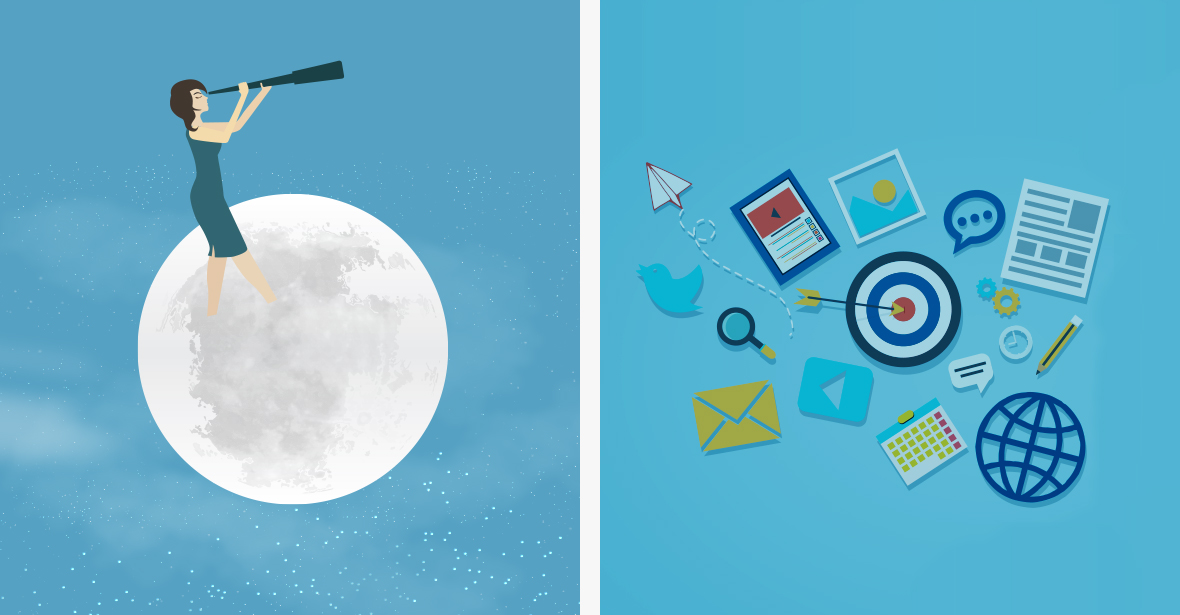 Marcom plays a pivotal role in marketing
Marcom has a central role in each organization's marketing department. There is a popular misconception that Marcom people should be content writers, graphic designers and expert marketing strategists, but it's just that: a misconception. What they need to be is the person who can ably manage all those roles. Rather, Marcom professionals need to define content requirements, review written materials, understand graphic design, know print and digital production processes, manage campaigns, and the like. They also need to know how to translate marketing strategy into a marketing plan, budget it, and tailor the marketing package for the organization, product, or service.
In short, the Marcom function is to serve as a planning, command and control center for all marketing activities in the organization. This means that the Marcom Manager must be familiar with the products and services the organization is marketing, the competition in the market, and the business environment in which the organization operates.
For example, a Marcom professional should know how to characterize the marketing tools required, develop the language of the organization or brand, choose the right communication channels for conveying this message, and determine where to invest resources and marketing efforts.
Why hire external Marcom services?
In recent years, it's become common to outsource Marcom services, just as one would employ an external accountant or consultant. An outsourced Marcom professional, in many cases, is the perfect fit, delivering professional quality and flexibility, on a per-need basis. For example: The organization is just getting started. There is still no budget for a full-time Marcom person, but there's a need to build the marketing infrastructure, communication channels, and brand. In such cases, a few hours of help a week, by an experienced Marcom professional, can help advance the organization's marketing activities. There is an in-house Marcom individual, but the person is inexperienced. Professional mentoring and direction will help accelerate the learning curve, guiding the internal Marcom worker to understand what the right processes are, how to build a plan and implement it, and even assist in establishing relationships with relevant suppliers. There is simply too much work for the in-house Marcom person to handle alone. It may be a matter of a few extra hours a week, or having someone readily available when the need arises – an external Marcom pro can assist easily and quickly, without the need to recruit another person to the organization.
Advantages of external Marcom
Significant cost reduction
– The customer only pays for actual work hours or tasks completed.
Diversity and creativity
– Since outsourced Marcom service providers work with multiple companies in varied fields, they bring endless ideas and fresh perspective to the table. A short learning curve – Outsourced Marcom pros are highly trained and experienced people. No matter the subject, they quickly gain a grasp, and can begin working almost immediately.
Quick connection to all suppliers
– Outsourced Marcom people are in contact with a wide range of suppliers in all fields: writing, design, production, development, etc. This gives them the ability to easily source each service, negotiate and reduce costs, according to the client's needs.
Proven expertise
– Companies that provide Marcom services rely on a professional, skilled and experienced team that provides holistic support and professional expertise, to best build a marketing infrastructure for the organizations they serve.
So what's next for Marcom?
I believe that at this stage, for us Marcom professionals here in Israel, the goal is to continue developing the field, to train more people, and to honor those who do this challenging work! If you would like to know more about outsourced Marcom, contact me directly.
[email protected]